INTRO: Our goal is to give our clients the opportunity to own a beautiful well bred pet.  We rarely place any of our puppies for show so you don't have to worry about showing your dog, we know most people are not interested in showing.  That doesn't mean you can't own the REAL DEAL even if he or she will simply be your companion
Our Puppies come in Black, Salt & Pepper and Black & Silver colors.  Our puppies are bred for breed standard which means "miniature" size.  Miniature Schnauzer breed standard is maturing from 12 to 14 inches tall to the top of the withers (shoulders).  Although this is our desired size & goal, mother nature will still occasionally give us a puppy that matures just under 12 inches or a puppy that matures just over 14 inches.  There is no weight guidelines in the miniature schnauzer breed standard however, they are commonly 13-18 lb on average.  We strive for great conformation, beautiful coats, that over all "schnauzer" look, intelligent, healthy dogs with excellent temperaments.We raise our puppies in our home among the entire family, other dogs and everyday household noises where we interact with them all through the day which means they come to you VERY socialized.   We plan each litter thinking of the time of the year, our schedule during that time, selecting couples that compliment one another from temperament to conformation, pedigree and our next show prospect.  I can only show two dogs at a time so I naturally cannot keep every puppy in a litter as I am searching for that next show prospect.  Any puppy we do not hold back for showing is sold as a companion. **Even though the goal of our breeding program to produce healthy true to the breed show quality dogs, we do not require our puppy buyers to show their puppy nor do we sell puppies for showing or breeding. I do NOT offer stud service or puppies with show or breeding rights.  Please see the Q & A page 
LITTER NEWS:

 

   
2017:
I have a small breeding program so I only have puppies a few times a year at best.  My puppies are placed via wait list only.  

I do not have any puppies available without being on the list.

  Depending on how the wait list goes, your wait would probably be late summer 2018 & that would require you to be completely flexible on color!!!!   
COMMON QUESTIONS:
Do you have toy or tea cup size:  NO, sorry, only "miniature".  Breed Standard calls for the miniature to be 12-14 inches to the top of the withers.  Depending on the bone structure of the individual dog this generally translates to 14-20 lb (+/-).  I do not and will not estimate adult weight on any puppy!
What colors do you have:  Solid Black, Salt & Pepper, Black & Silver ONLY, no other colors!
Do you have any puppies available right now::  Most likely NO, basically being as small as I am, 99%  of my puppies are placed via waiting list.  Your best bet is to get on my waiting list.  Depending on what color/gender you prefer, be prepared to wait 2-8 months for a puppy.
How much are your puppies:  $1500-$2000 with natural ears.  Price is higher if ear crop requested
Do you offer breeding rights aka FULL registration:  NO NEVER, sorry
Do you sell puppies for show:  Rarely
How do I get on your waiting list:  CALL ME!  469-422-2024
 Contact Me:  
469-422-2024

or Email ClassicSchnauzer@att.net (please include your name and phone number)  I prefer emails with a call back number.  Thank you
See the

Q & A

page for more details about pricing, deposits, waiting list and health guarantee etc. 
 Being on our waiting list:  We do NOT have puppies year around so if interested in one of our puppies, contact me to see if we have any planned litters and are taking names for a waiting lists.  Planning ahead gives you the best options on our waiting list.  But please keep in mind, we reserve first pick for any suitable show prospects from our litters.   Not having "pick of the litter" does not mean you won't get the puppy of your dreams……..everyone has a different idea of what is their perfect companion be it a specific color or gender.  I have seen the last person on the list get the puppy they wanted from the start and I have seen the person that was 4th pick move up to first pick (after us) when the litter didn't produce the desired color/gender for the first three people on the list.   See the

Q & A

Page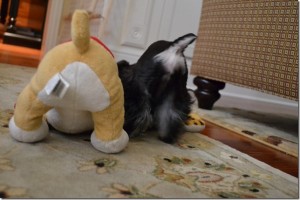 You might want to consider assisting an adult schnauzer from North Texas Schnauzer Rescue.  They are wonderful people who like you and I love this breed.  If not, consider a donation.  http://www.msrnt.com/
A side note about "Show" dogs vs "PET";

  Choosing a quality breeder is the first very important step in your selection of a new puppy.  A show breeder is someone who has invested the time and money necessary to put champion titles on their dogs.   A good breeder will have researched the various health and temperament issues of various lines and breed to avoid or minimize them. The person that researches lines, does medical testing and spends much time and money showing their dogs to championship are people that are obviously more interested in the hobby, love and welfare of the dog & breed than they are in making a living from a breeding program.  The purpose is to save this breed and allow others to enjoy a true to its breed dog that is as healthy as possible.
  Many people don't realize that showing dogs originated for the

SOLE purpose of those interested in bettering their breeding program

and meeting like minded people.  It's not about breeding for the minority, its about ALL of us having the opportunity to own a pure bred, true to its breed, healthy, quality PET.   Showing gives us the opportunity to save the integrity of this breed for all to adore.  Showing is so much more than the common misconception of being a beauty contest.   Its about all the little details of structure, type and temperament that makes the miniature schnauzer what it is.  See "

Show Points

" page,  "

The Breed

" page AND the "

Grooming

" page to get a better idea of what show breeders are maintaining and trying to accomplish.  There is no one that benefits more from this than the person that "just wants a pet".   The point is to offer YOU the quality you deserve AND producing a dog that will have a better quality life.
Somehow today there seems to be a separation between "pet" and "show dog".  I hear over and over from people how "I don't want a show dog, I just want a pet".   We know most people aren't interested in showing their dog and we don't expect you to! 
Those that are showing are breeding for TRUE breed type are generally breeding from a gene pool of generation after generation of like quality dogs.  If you aren't breeding to keep the breed true, what is the point in having a pure bred dog?   If we aren't going to uphold breed standard to its highest potential, we might as well all be happy to have mixed breeds.  If you want a miniature schnauzer, then its probably because you want a dog that has that very distinguished mini schnauzer "look" along with all the other great characteristics known to this breed and not just a dog of mere resemblance.  Our goal is to keep all the mini schnauzer characteristics and qualities in place including the the long term health of our breed.  We expect to see these qualities come natural to our breed just like we expect a herding dog to heard, a blood hound to be the superior tracker and a chihuahua to have big ears. haha 
The integrity and longevity of this breed is in our hands.  Why would you buy an inferior representation of the breed simply because you "only want a companion"?  We hope if we are doing our job well that we are making dreams come true for others. 
And don't forget, with our puppies, we offer a 5 year health guarantee, they are vet checked, crate trained, first parvo shot as well as first 5 way puppy booster, de-wormed, fresh grooming, first collar, toy, training material, crate bedding, already micro chipped, starter bag of Wellness Puppy food, starter pack of NuVet supplements, and nutritional information
See our adults (parents) on the

Gallery 1

page.  Also, see the

Q & A page

for details about deposits, pick up, shipping, how our puppies are raised etc.
 EMAIL

ClassicSchnauzer@att.net

FOR MORE DETAILS ABOUT OUR AVAILABLE PUPPIES.  
***********************************************************************************
Available ADULTS:
No adults available at this time and I am not planning any in the near future.
Adoption fee for an adult will vary and can be anywhere from no adoption fee UP to $500 depending on individual dog,  which is to cover vet fees to spay or neuter, yearly vaccines and teeth cleaned.  The perfect fit is absolute priority so please, only serious, committed, dog loving individuals encouraged to inquire.  Adults are not placed on a first come basis, they will be placed with whom we feel is the best fit for each personality type.  Thank you for your understanding
I require a local home to the DFW area for adults I place. This is because I do not take placing my adults lightly.  It is very important to me that their transition to a new home goes very smoothly and if for any reason it doesn't or circumstances change with the family for any reason, I like for it to be an easy drive to get them back to me.  This is why no shipping!  And of course we want to see if the potential new owner/owners and dog make a special connection to one another.  That can only be done in person.   I do require the new owner agree that if the dog ever leaves their possession, that dog is to come back to me only and not to be given away to anyone else or surrendered to a shelter.  They are counting on me for not only their well being but their happiness & they always have a home with me.  But, as they retire from showing/breeding with us, we can't keep them all and to find someone that can give just as much love as we do but more one on one quality time with them is a win win for everyone!   A dog that could be the perfect dog for one person, could be a regret for another so having a great fit is key.  This is why being open and honest during the adoption process is so important.  Not just with me but with yourself and the dog.
 Yes, adults need to adjust too, EVEN if they are fully trained.   Everyone thinks an adult means no work & sometimes this is true but realistically they have to adjust which could be a matter of weeks or even months.  And while they are already trained, they still have an adjustment period to get into the flow of their new home and family.   Many dogs may transition with total ease but realistically most will take time.  You must know that potty accidents are a possibility during this transition time EVEN for the house trained dog.  When an adult is placed in a new home, all that was familiar to them, all they know is now gone but with love, patience and common sense that will change as they begin to bond with you.  So those that want an adult dog because they don't want to put in any effort need not apply.  On the other hand, it is not as difficult as I make it sound.  I just want to be sure those that apply have a clear understanding of my expectations, of the dog's needs as well as the reality from the dogs perspective. My goal is that each adult placed only changes owners once!  That's a win win for all!   Contact me at  ClassicSchnauzer@att.net

  We are PayPal verified.  All Classic adult dogs and puppies are AKC registered.  All stud dogs are AKC DNA verified, our adults are CERF clear. We do not bred unhealthy dogs or bad bites.  Classic Mini Schnauzers reserves the right to refuse sale to anyone at anytime.  We do not sell to pet brokers, pet stores or the general public through parking lots, local newspaper ads or flea markets etc.  Sales are private to approved homes only. 
 Selecting your next puppy and your next breeder:
Shopping for a puppy is a very happy time & a big job.  Of course we want you to go cautiously but in the process be open minded and most of all have fun and I tell everyone to always listen to your heart.  
Weeding through various breeders.  What's good & what's bad.   A few pointers….
1) Again, as I always say, listen to your intuition. 
2) Consider if the person shows 
3) Visit them in person if at all possible.  If they are not local to you, ask for references.
4) Take your time on the phone getting a feel for one another.  If the breeder doesn't have time to talk, ask when is a better time for them.  They should by all means be willing to assist you in the huge task of finding the right dog & breeder for you.  This is a family member and a good breeder not only understands that but expects their puppy to be placed only in a family with the same view. 
5) Again, using discernment should give you a sense of the ethics of this breeder but if not, go visit them in person.  Please don't ask questions such as "Are you a puppy mill" over the phone! LOL If they are, I can assure you they are not going to admit it and if they are not, asking that is actually quit insulting even though that was not your intention.  There are ways to ask pertinent questions & be considerate at the same time.  We really shouldn't treat each other as guilty until proven innocent.  It's ok if you have suspicions or just want to be cautious,  you just don't have to verbalize every thought during an initial evaluation.  Keep in mind a quality breeder is just as concerned about you and how you will care for their puppy as you are about the breeder of where the puppy comes from.  AND on that note, a breeder should not make you feel pressured to buy.  If you are feeling that way, find another breeder!  Again, if at all possible, you should always visit them in person.  Even if they don't have puppies, you can meet their adult dogs which will give you an excellent understanding of how they care for their dogs and interact with their dogs.  
6) Be a cautious shopper!  Don't shop at pet stores or flea markets.  Consider a "professional" rather than the person that owns one dog and used a friends male for stud.  One that pours their life into their dogs has more than likely planned with a great deal of their time and money by researching their bloodlines, done medical testing and knows about this breed from behavior to medical issues and yes, all breeds (even mutts) will have things they are prone too.  Mother nature isn't perfect but when we are selectively breeding, we hope to dramatically minimize those issue.
7) When visiting in person, notice the overall care of the dog.  Is their coat and eyes healthy, are they clean, are they friendly, are they groomed/maintained.  If you are viewing puppies, are they playful, energetic active, alert, social with all that are around them, do they respond positively to sound and touch, are they clean, filled out or thin……. just for starters
8) Notice when a puppy gravitates to you!  Sometimes letting a puppy pick you can be a match made in heaven but also listen to the advise of the breeder.  The breeder has lived with this litter and knows each ones personality and can be a huge asset in assisting you to pick the right match for your family.
9) Are you scared you will end up buying from a Puppy Mill??  First, research what a puppy mill is.  Once you have done that, trust me, you will know one when you see one!  Consider this, every time someone buys a puppy from a puppy mill, they keep that person in business!  The best way to run them out of business is if they loose all their business. 
10)  Ask the breeder what the puppy comes with and what has been done prior to your acquiring the pup and what needs to be done after you get the puppy.   A particular breeder will be very stringent on the vaccine schedule and should point you in the right direction of how to continue in that area to be sure the puppy receives the correct vaccination protocol for protection.  They should also be particular in encouraging proper diet and have great advice for you in that area as well as puppy training.  A good breeder would not send you out "on your own" so to speak.  It should be very important to them the puppy gets off to the right start so a hands on breeder will be willing to guide you in all these areas.
11) If a puppy comes with a minimal to no health guarantee …. RUN!!  Consider the health guarantee offered and be sure its in writing, not verbal!
12)  Consider the age and over all condition of the breeders older dogs.  If they have one or two older dogs that are in good to great shape, you can bet they take care of their dogs.  If these dogs are related to your puppy, even better! 
13) TAKE YOUR TIME!  Wanting a puppy "yesterday" may not be the smartest way to move forward in selecting a long time family member.  Keep in mind that getting a pup from some of the better breeders may require getting on a waiting list.  Some may not have puppies very often and most of those could end up in show homes while others may have a few more options throughout the year but you can bet theirs will get spoken for quickly.
14) Be considerate of your appointment time when visiting the home of a breeder.  You have been welcomed into their HOME, not a public store front.  Which means they have things going on the same as you……. children, family or school activities, meals, errands etc.  I once had someone show up 3 hours early.  That's wasn't fun jumping out of the shower to answer the door!  Not to mention this person drove 4 hours to get to my house.  What if I had not been home?  I consider 30 minutes (+/-) the norm as traffic can be unpredictable.
15) You may find that a spay/neuter contract to be standard with quality breeders.  Some breeders will breed anything that is cute or convenient.  It's our responsibility to not only protect the purity of our lines but to protect our puppies from falling into the wrong hands.  Some people feel that if they are paying for a dog they should be able to do whatever they want with it.  Let me first say that is not the mindset we intent to place our puppies with.  The well being of the puppy & the integrity of the breed are of the highest of priorities of any responsible breeder!  Also, truth is that the majority of the dogs & pups found in shelters are products of pet owners that had not yet spayed or neutered and ended up with an accidental litter they could not find homes for.   Read more about spay/neuter contracts the how and why on the Q & A page.
16) Don't feel embarrassed to ask for references!  I don't know of one reputable breeder that would mind!
17)  If you feel indecisive, sleep on it or consider the saying "when in doubt leave it out".  Sometimes the doubt comes in because one was not really ready for the responsibility of a puppy in the first place.  It's better to back away than to get a puppy and then have regrets.  Not only will you suffer but the puppy will certainly suffer along with you if they were not truly wanted!
  Most of the time people "just know" its the right puppy, or the right litter and or the right breeder.  If you are having a hard time choosing between two great pups, let the pups speak to you.  
 I am often asked if the photos on this site are really my dogs.  Yes, they certainly are!  Some I have had made by professional photographers and some I have taken myself such as the two below, aren't they adorable!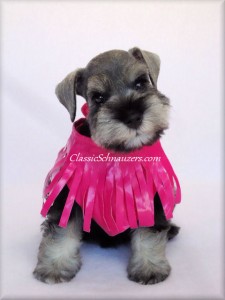 schnauzer, miniature schnauzer puppies, miniature schnauzer puppies for sale, miniature schnauzer breeder, texas schnauzers, schnauzer puppies dallas, tx, puppies Fort Worth Tx, Ft Worth miniature schnauzers, schnauzer puppies for sale, show schnauzers, champion miniature schnauzers, texas schnauzer breeders, food for schnauzers, schnauzer grooming, AKC miniature schnauzers