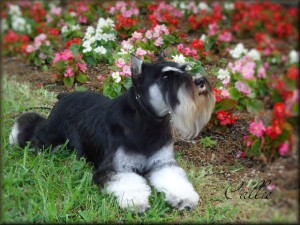 Above: CH Southcreek's Aye Calypso aka Callie 
Welcome to Classic Schnauzers
Below are multiple photos of each of the dogs Joe & I have shown in the past or are part of our collective breeding program.  Joe Chavez is my brother in law. Some of these dogs are retired and no longer in our breeding program.  They are shown here to give you a glimps of the standards we set for our selective breeding program.
 Click on photos to enlarge, then use your back button to come back to this page.  Or hold curser over photo for info of that photo
News: While our website is "Classic Schnauzer", I'd like to announce our kennel name that will appear on the registration names of any future dog kept by us for breeding and or showing will be "Kindred's".  Selected because for me they are kindred spirits.  Kindred meaning having a connection to another, being alike or of relation.
2017! ** Import Male comes to USA from Poland.  Miles: Enter The Dragon Jezzy Dogs by CH Blackgalxy Walk On The Top X CH Waris Diriee Jezzy Dogs will have his show debut late June 2017 & takes home three 5 point majors in only his first two shows!   **Another amazing import Male from Poland arrives!  Trip:  Victory Of Love Jezzy Dogs by CH Repitition's Ultimatum X CH Kelly's Dreams Come True!  Two of four times this newby walks into the ring he wins majors!  I'm so thankful to have these two gorgeous future studs. Photos Below in gallery.
July 2017 Dallas Show:  Miles becomes a new AKC Champion!!  Taking home a 5 point major at Ok City in June 2017 & taking home two 5 point majors the following weekend in Dallas Miles completes his championship with three 5 point majors in only his first two shows!  Wow what a special boy.  Bred by Agnieszka Durlik Of Poland, shown exclusively by Alfonso Escobedo & his team.
July 2017 Dallas Show: Trip wins a 5 point major from the 6-9 month puppy class only his second day to walk in the ring handled by owner Sarita Chavez!  Another example of Agnieszka's excellent breeding program.
Next breeding: 
 
NEW STUD: Sorry for the confusion but we have a girl named Skye (Classic's Good Vibrations) and a boy named Sky (CH Repetition's Sky Diver).  Sky the boy was already named when I got him and Skye the girl lives with a new family now, retired from breeding.
Note;  Some of the dogs on this page are now retired & in new homes but all have been owned by us.
GCH Victorious Star Holiday aka Oso is our amazing little Russian import! He is FULL of life & is the happiest dog I have ever seen! He loves everyone he meets and is ready to do anything or go anywhere you are. His sire is a champion of 8 different countries including Italy where much medical testing is a requirement in earning a champion title. His sire has multiple best in show wins to his credit. Oso's dam & sister are also Russian Champions.
Oso earns his AKC Champion title at 17 months of age. He won a Best In Breed and a Terrier Group 4 placement from the puppy class & later finished in the open class with two 4 point majors being handled by Chris Hallock. He is now being shown as a special & to date has earned 9 Best In Breed wins, two G4 (fourth place in the Terrier Group) & one G3.  One of his "Select" wins was a very prestigious win at the Fort Worth, TX National Specialty weekend show of nearly 70 breed entries under Judge Paula Hartinger, beating out some of the top miniature schnauzers in the country. This was a major win towards his Grand Champion title as well.  Update:  In less than a month after earning his Champion title, Oso goes on to earn his Grand Champion title!  Oso i
s also an International & American Puppy Champion with 2 Best In Show Puppy wins (IABCA), 
Competing with NAKC in 3 shows, he earns TWO Best In Show JR

.  See Oso in video below.  He's the black dog with the lady in red (that's me! lol)
CH Classic's Mystical Red Moon

aka Austin is owned & loved by Joe Chavez and co-owned by Classic. Austin is AKC pointed & is just a super sweet natured dog, easy in every way & the cherry on top is how beautiful he is!
Couldn't ask for a better boy! Austin's great grand dam is our very own Kohlie seen above in the gallery.  What a truly gorgeous boy.  Austin earns his champion title with 3 majos, 16 points total.  He is a stunningly flashy salt & pepper with beautiful movement.  He is our smaller of the two boys standing at just under 13 1/2 inches and a solid 16 1/2 lb of lean muscle.

See him in the video below. He's the flashy one! 
CH Southcreek's Aye Calypso

aka Callie is just a jewel that I was so very blessed to have the opportunity to own. She is a beautiful champion sired show girl that draws attention everywhere I take her. This girl is what a "mini schnauzer" is all about! A bone structure like hers does not come along everyday. Many thanks to the late Ann Lockney for the creation of the Ruedeshiem line & to Callie's breeder, Vicki Keith, for producing such a fantastic girl. She is proof that dreams do come true!
Callie is now an AKC Champion. Her first major win she took Best Of Opposite Sex to the #1 dog in the country at the time (CH Repitition's Valedictorian owned by Kurt Garmaker) for 4 points. She later is awarded Best Of Winners & Best Opposite for a 3 point major under Judge Dr. Robert Smith. The following weekend she earns her final champion points the first day out at a 4 day show.  Handled by Chris Hallock, she takes BOS the following 3 days earning her Grand Champion points. Thank you Chris for finishing the job for me so quickly!  Callie is also an International Champion with a Terrier Group 1 & Best In Show Reserve! We have also shown her with APRI, she sailed through the 3 levels in only 3 shows (not easy to do as the top level requires three perfect scores from a total of 6 judges!) Also multiple
Best In Show wins.  See videos of her on the HOME page.  
PARIS:

This girl was truly my inspiration to show! I started showing Paris with APRI to learn the ropes before moving forward to larger venues.
APRI takes on judging much like International shows in that the dogs do not compete against one another but are compared to breed standard for their scores/titles. With this registry there are 3 levels one can complete. Paris was the 8th dog in APRI history to achieve all three levels. She also took home Best In Show twice as well as a Best In Show Regional Champion. Paris also became an International Champion with a Terrier Group 1. We had a great time with her! She is retired from showing. Paris also ads modeling for pet products to her resume. lol
PASSION:

Classic's All About Passion……..her name says it all!  To wrap your world (and wallet) around showing dogs, it HAS to be a passion.  And not just the showing, but the joy of working with the dogs.  Passion is my current show girl.  A stunning sweet natured outgoing black & silver. She Loves to give hugs and shake hands.  I am very passionate about this sweet love bug! Passion currently has 5 points & will be going for her majors & a few single points for her champion title in 2013.  She is the daughter of our Kohlie and was sired by a 'VF Oliver En Black' son.  

See her in video below:
Our dogs are eye certified clear