_______________________________________________________________________________
Below are several recommended products with links to their site however, I would like to start this page with a list of recommended New Puppy Essentials.
Puppy Crate – this can be the plastic crate or the folding wire cage.  All pet stores sell both options
Bedding – Bedding for the crate.  My recommendation is the flat padded bedding that washes easily and will not lose its shape.
Food and Water Bowls – I recommend a heavy shallow bowl.  This prevents spills by the puppy and a shallow bowl is less intimidating and easier for the puppy to manage.  Do Not use Plastic bowls!!  Plastic can harbor bacteria
TOYS – be sure they are age appropriate toys.  Many toys are labeled for age and chewing capacity.  We love the no stuffing toys, they are easy for puppies to carry.  In addition, it is important a puppy has chew items that will help them during teething.
Puppy Shampoo – puppy shampoo is mild and will not burn the eyes.  Be sure it is labeled as safe for the eyes.  NuVet carries a nice shampoo that I really like.
Brush and Comb – to start with just a small to medium slicker brush is sufficient.  I like the Safari brand.  Later once the puppy is older and matts may come into the picture, I highly recommend the "Miracle Coat" brush.  This is available through Pet's Mart's ONLINE store only.  You must order it.  Get the large, NOT the small!  This brush gets down into the coat much better than the slicker brush but is a little big and harsh for a puppy.
Training Treats – Everyone wants to know what treats I recommend for puppy training.  I just can't stress enough how fresh fruits and veggies are superior to any other treat.  For puppies, just cut them in small pieces.  If your puppy doesn't show any interest in them, give it time he/she will as their taste develops.  freeze dried meats are another great choice.  Nature's Variety makes several options.  but if you have times that you want to use a store bought treat, I like "Bitz" made by Old Mother Hubbard baking co.
Puppy Food
NuVet supplements
Exercise Pen – For those times you are away from home, especially when working and gone for hours.  This keeps your puppy from being crated too many hours!  A must have!
Puppy Leash – Even though we recommend your puppy not go out in public until ALL puppy shots are complete, you can start training your puppy to walk on a leash.  Use it in your home or your own backyard. (We send puppies to their new homes with their first puppy collar)
Puppy Pads, Potty Patch or the Puppy Apartment – For those of you that work outside the home, it is wonderful to train your puppy to potty on one of these items AND outdoors and NO, it won't confuse him.  We use both and during times when we travel, it is so convenient!
Slip Lead – this is an absolute must have for puppy/dog training.  A collar and leash are simply not the same during training sessions
The Dog Whisperer DVD SET – I highly recommend the 6 DVD set "Mastering Leadership Series" offered by Cesar Millan.  We all want a great dog right?  This set will help you help your puppy reach its highest potential in going from a great puppy to a great dog.  This is truly a purchase to put in your new puppy budget.  Its just as important as that bag of puppy food!!!!  ** Anyone that buys a set and later wants to resell it, contact me, I will buy your used sets.
Tooth Brush – This is the perfect time to start getting your new puppy trained to teeth brushing.  Our show dogs let us brush and scale their teeth with no hassles.  It only takes a few minutes.  Keeping their teeth clean is one of the best things you can do for their over all long term health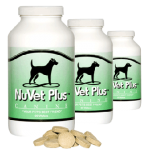 NuVet

– We have a personal friend that used NuVet to clear her dog's cataracts and it did just that is 6 months time. This product saved her $5000 in cataract removal surgery! If it can do that, what other ways might it be improving your dog's health!?


Click Here To Order NuVet Plus Or Call 800-474-7044
Scroll down for DOG FOOD information!
 

Tags For Hope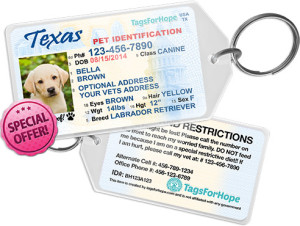 TEAR STAIN REMOVAL;

   An ALL NATURAL recomendation; ARABINOGALACTAN  

www.vitalityscience.com

  

This product has tons of beneficial uses!

Where to buy DOG FOOD: These two banners below are where I buy my dog food.  It is actually very economical to order your dog food, even when you buy the large bags like I do!

www.Chewy.com

and shown below, Wag.com
DOG FOOD

:  We were feeding Nature's Variety Instinct dry for a while & sending puppies to their new homes with this food but I would like to recommend a change for those using this food.  While I feel it is a quality food, I also feel (as other breeders of miniature schnauzers agree) that this food is too high in protein and fat for this particular breed.  The exception in this brand is the healthy weight raw boost.  I recommend staying around 22-30% protein and no more than 15% fat with your dry Kibble.  Mostly it's the fat % that is a concern for not only weight but pancreas issue that could arise. On a different note, I also use 

Nature's Variety RAW

Is completely different in protein and fat content %, even thought it's raw.  The ingredients include a variety of fresh RAW organic fruits and vegetables and meat source.   Nature's Variety raw can be used to help a dog gain or lose weight and can be helpful to dogs that need a low fat diet due to pancreas issues.  I have safely used this for a dog with a very sensitive pancreas.  I was very pleased to find a better option for her than RX diet.  But of course every dog is different so this is not medical advise, the information provided here by me is only to tell you of my personal experience.

I am feeding my dogs these foods;  1.  

ADDICTION

Wild Kangaroo & Apples (22% Protein 11% fat), 2. For our puppies Salmon Bleu PUPPY (26/12)  3. ADDICTION RAW DEHYDRATED Perfect Summer Brushtail (20/10)  Raw Dehydrated Outback Kangaroo Feast (21/10) & WISHBONE "Lake" which is Duck & Fish (26/10)

I order all my foods from CHEWY.COM for those of you who can't find them locally.  I will note however, most large chain pet stores sell limited choices of the higher quality foods.

 I also Nature's Variety "Prairie" as a less expensive alternative (not grain free & slightly higher fat but most dogs do fine 25/14), Nature's Variety Instinct RAW patties, Nature's Variety Instinct Healthy Weight with Raw Boost (32/12),   like The Honest Kitchen, this food has low fat options that do not sacrifice protein or taste.  For CANNED food my dogs LOVE Wysong brand and Addiction brand.

Low fat food is usually sacrificing in protein or total lack of ingredients.  It tends to be bland and not of interest to most dogs however, I have found these foods to do the trick keeping the fat percentage in check, still appealing in taste and ingredient list and no licking and gnawing feet due to carb fillers.  Please share your experiences!
WELLNESS

PET FOOD & our experience;  As many of you know, we feed this food to our dogs for about 2 years.  And with great success, however, after the ingredient list was changed by the (new) company, we slowly started experiencing problems.  Everyone started licking their paws, some were gnawing terribly at their paws.  And we were having sudden yeast infections in the ears…….of pretty much everyone.  What are the odds multiple dogs would have a yeast infection in their ears at the same time!  I knew this just did not make sense but I also knew it HAD to be in the food.  So after much research I decided to give Nature's Logic a try & also found Honest Kitchen.  I am using both brands depending on the specific dogs needs being I obviously have more than one dog but for those with only one or two dogs, choose one or the other.
What happens is dog foods that are high in starch creates an over abundance of yeast in the body.  Such things as potatoes, peas and some other veggies are used as fiber.  They are less expensive than meat proteins, they are also used as fillers as well.  Granted they are nutritional fillers, too much of a good thing is rarely good.  My goal was to find a food low in carbs/starches, still retaining high protein yet not too high in fat content.  BIG challenge with dry kibble which is why I promote feeding raw!  We have only been using Nature's Logic for a short time but already there are visible results.  Some dogs are no longer licking at all, others very little.  Everyone's ears are clear except ONE so great progress!  
Not only have I ran across this problem, but I have already had two individuals experience the same issues as me as well as a natural pet products retailer told me they were hearing the same things about wellness.
RAW food

recommendation.  We feed 

Nature's Variety

Instinct Raw.
I can't stress the quality of this raw food enough!  The dogs think it is heaven in a bowl~  Can be used for all ages, under weight and over weight dogs, active to less active!
I buy just about everything from this awesome online store from dog cloths to grooming products.  It is almost a one stop shop!
DOG CHEWS:

www.activedogsupplies.com

is a great place to get NATURAL, No Mess DOG CHEWS.  I highly recommend the all natural deer antlers!  They don't splinter and are very long lasting and most of all dogs LOVE them.

Also available for larger dogs are Elk horn and Moose horn/antlers
We will have a post soon about RAW food.  Stay tuned for that, much to learn.