*Page top banner left to right: Sibella & Callie  You can see more of them on the
Gallery 1 page.
Located near Dallas, Tx 469-422-2024
Welcome to Classic Miniature Schnauzers
Companions made of Champions!  Miniature Schnauzers in all three colors
"Where Love & Quality show in every puppy"
We have all 3 colors of black, salt & pepper and black & silver but I specialize in black's and b black & silver and have those two colors most often.  ABOVE –  Enter The Dragon Jezzy Dogs, call name is Miles.  Miles was imported to the United States from Poland.  He is a combination of American & European lines.
Our goal is to give our clients the opportunity to own a beautiful well bred pet.  We rarely place any of our puppies for show so you don't have to worry about showing your dog, we know most people are not interested in showing.  That doesn't mean you can't own the REAL DEAL even if he or she will simply be your companion
~*~*~*~*~*~*~*~*~*~*~*~*~*~*~*~*~*~*~*~*~*~*~*~*~*~*~*~*~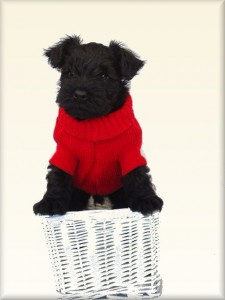 LATEST NEWS
NEW CHAMPION ONBOARD!  CH Enter The Dragon Jezzy Dogs owned by Carlos & Sarita Chavez, Bred By Agnieszka Durlik, handled by Alfonso Escobedo.  CH Blackgalaxy Walk On The Top X CH Waris Diriee Jezzy Dogs.  Finishing with three 5 point majors in only 2 shows!  Winning photo coming soon.  See him on the Gallery 1 page.
BELOW:  Our newest little show girl "Stevie" had a great time at the Schnauzer Palooza!  One of three National Specialties held each year, the Schnauzer Palooza was full of fun and full of schnauzers!  Holding specialties for each the Giant, Standard and Miniature Schnauzer, the palooza was a once in a lifetime experience.  Stevie, also known as Classic's Can't Take My Eyes Off You is the daughter to our very own CH Southcreek's Aye Calypso (Callie) and GCH Savannah's Black Tie Event (owned by Robert & Diane Steffy). She places 4th in her class at the AMSC Specialty and takes Best In Show Sweepstakes the following day among a huge group of 56 pups from 6 months to 18 months of age and all at just 6 1/2 months old!!  A HUGE thank you to Judge Kennelea Pratt!
The following weekend Stevie wins BOTH of her majors & quickly aquired her champion title at just one day shy of turning 8 months old!  Needless to say, she is our youngest champion yet!  Stevie finished with 17 points that included two 3 point majors and one 5 point major!  Shown below with handler Chris Hallock in Missouri at the 2013 Schnauzer Palooza.  A special thank you to the Steffy's and Kurt Garmaker for helping me to make the breeding that produced this pup a reality.  Also a special thank you to those judges who saw something special in Stevie and gave her each win!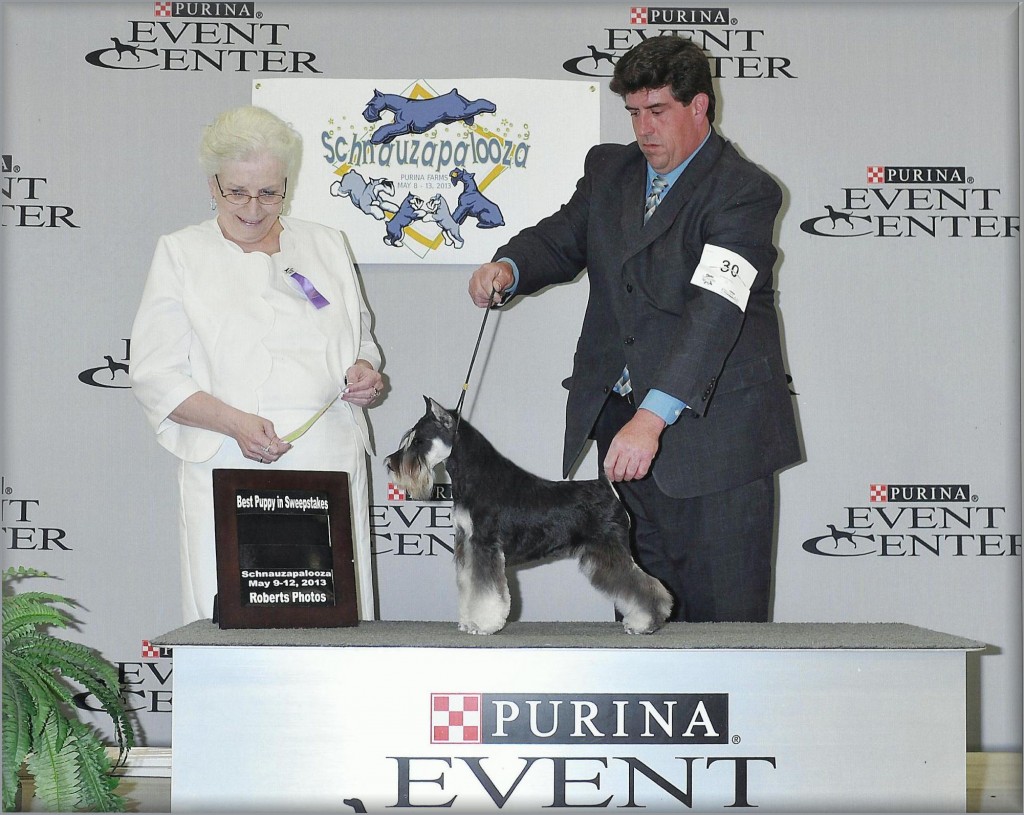 ~O~O~O~O~O~O~O~O~O~O~O~O~O~O~O~O~O~O~O~O~O~O~O~O~O~O~O~O~O~O~O~O~
Located in the Dallas, Tx area  Contact Info: 

ClassicSchnauzer@att.net  

If you would like a call back please do not forgot to include your name and phone number.
~ Pictured Left: Grand Champion Victorious Star Holiday aka Oso.  Imported from the Ukraine from one of the most prestigious European Black lines.  Oso finished for his AKC Champion title March 2012  going on to Grand Champion in less than one month.  In only a short two months of showing as a special, Oso shot up in ranks to the # 11 dog in the country of all 3 colors, the number 3 of black/black & silver and the number 1 black miniature schnauzer.
Handled by his owner for his single points then turned over to professional handler Chris Hallock for his majors.  Oso is also being campaigned by Chris, who is the skill behind this accomplished team.  Oso's accomplishments include AKC Champion, AKC Grand Champion, Bronze Level Grand Champion, # 2 ranked Grand Champion in the state of Texas, Multiple AKC Group placements with his first entrance to the group ring he received a G4 straight out of the puppy class,  AKC Terrier Puppy Group 2, Int & Am Jr Ch IABCA, 2 time Best In Show Jr. IABCA,  2 time Best In Show Jr NAKC, Top Dog BIS APRI.  He was also awarded Select Dog over many of the nations highest ranked miniature schnauzers during a National Specialty weekend.  This show consisted of nearly 70 miniature schnauzers from around the country ~  My deepest gratitude to Chris for giving me far more than I thought could happen in 2012!  And a special thank you to Victoria for allowing this special little guy to come to the USA & be part of our family.  Oso is also an all natural true black!  2012 FINALS are in:  Click thumbnail photos below. From left to right;  1) Oso finishes # 12 nationally of all colors &  # 2 black.  2) Oso finishes # 3 Grand Champion in the state of Texas   3) Oso finishes # 8 Grand Champion Nationally 
Even though we may be total strangers, there is one thing that bring so many of us together……….yep, the love of that bushy eyebrow'd bearded love bug called the miniature schnauzer.  Please feel free to interact with us on this website.  Dog lover's, especially schnauzer lover's, all love to share stories.  Create a user name/password and post away sharing your thoughts, concerns and funny schnauzer stories.  I hope to accomplish many things with this website from informing the public the scoop on showing, talks on many things from food to health concerns, ear cropping, puppy news, you name it, we will talk about it here.  And most importantly, we want to hear your stories and make tons of new friends.  So to all of you, WELCOME! 
We are totally in love with this magnificent breed of the "Miniature Schnauzer" and because of that, feel very compelled to uphold the original and true integrity of the breed by breeding for breed standard.  These are all the things that make this breed what it is today & so amazing.  That block shaped head with those very distinguished beard and eyebrows, the well known brrr – rrr schnauzer bark/talk, the square compact body with great bone and substance that makes this dog not only a big dog in a little package but originally a true working dog.  Be sure to visit the

"breed"

page to learn more about the characteristics of the mini schnauzer.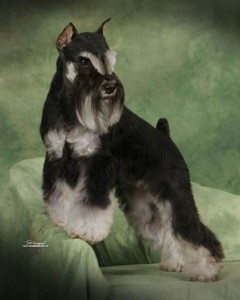 When partaking in breeding, even if it were a one time litter,  it is our duty and responsibility to follow in the footsteps of those before us by keeping the integrity intact for this breed and to improve where we can.  Just think of the gift we all have been given with the miniature schnauzer.  Without the efforts of the many,  this truly wonderful breed would have been lost.  I know there are other wonderful breeds out there,  I have certainly had a few through my life including mix breeds, but after having owned my first mini schnauzer nearly 20 years ago, I just can't imagine my life without the miniature schnauzer in it!
Once I decided to dive into showing.  I soon found myself very overwhelmed, having no mentor to guide me, but I am a strong believer in "where there is a will, there is a way" and I suppose I am also a strong willed person that doesn't like to be told "no" or "can't".  It is a journey that I am still on & has certainly been a bit of a roller coaster ride, but I have enjoyed every minute of it.
Learning the proper techniques of training for show, I discovered that I had far more to learn than my dog did!  I was amazed at how much of this training and communication could be transferred into our everyday lives, not just the show ring.  I know she taught me more than I taught her.  I learned so much about canine communication which has helped me to
better understand my dogs & their behavior. And with that, I have become a better pet owner.
I have to give hats off and many thanks to my private instructor Ken Hapgood ofLeilani Doberman's as well as to another instructor for his pointers and encouragement, Dr. Sanders of Pet Country Spa and who could forget the Dog Whisperer himself, Caesar Millan!
Because this breed is so smart, too often we have "human" expectations on them or human communication styles and forget that they as canines communicate and learn differently than we do.  Its similar in the difference in communicating with a child verses an adult.  The message is the same but delivered with slight differences.  I am not saying your dog is a child or not intelligent, simply that the communication style is slightly different.  Please remember this in your communications and expectations of them.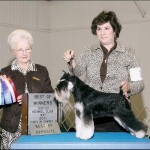 With this website I hope to deliver many things about my journey with the miniature schnauzer as well as help you with yours.  Hopefully we will all come together as one, helping one another in this journey of love, k-9 loyalty and responsible dog ownership.
This new site is under construction at the moment but with time I hope to have many resources available to you from raising a new puppy, adopting an adult, Mourning the loss of a pet, nutrition information, health concerns, the "how to's" of grooming your miniature schnauzer, show news, information on various pet products, and yes from time to time we will have

puppies available

for adoption as well as an occasional adult available for adoption.
We hope to make

many new friends

through this new site and Welcome all of you, my future schnauzer friends!
~ * ~ * ~ ~ * ~ * ~ * ~ * ~ * ~ * ~ * ~ * ~ * ~ * ~ * ~ * ~ * ~ * ~ * ~ * ~ * ~ * ~ * ~ * ~ * ~ * ~ * ~
************************************
Owner:  Sarita Chavez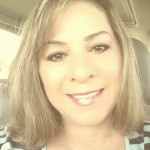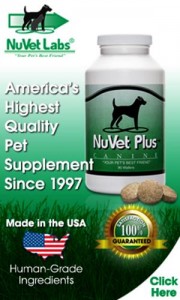 click here to visit NuVet's website.  HEALTH is very important to us and this is why we choose NuVet for our dogs.  Yes, all of our dogs are on this.  
It's super easy, they think it's a treat!

 After having a friend's dog cleared from cataracts with NuVet I thought, there has to be something made right about this product to do that.  Since I have learned it does much more!  I recommend this product so highly that I offer an additional 4 year health guarantee on all of our puppies with the committed use of NuVet.  Click the link below to learn more or click the photo above to go directly to their site to order.

See NuVet video here:  http://www.youtube.com/watch?v=opAtO6NHzZU
See Oso & Callie In Action: Video Link…………

YouTube

In this video, Oso takes Winners Dog, Callie takes Winners Bitch, Best Of Winners, Best Opposite over 1 special bitch for a 4 point major under judge Darryl Vice
See Oso in action taking fourth place in the terrier group after winning best in breed from the puppy class click you tube;
YouTube
************************
Below:  Another clip of Oso below shown by handler Chris Hallock winning Select Dog for a 5 point major under Judge Paula Hartinger during the 2012 Roving American Miniature Schnauzer Club National Specialty weekend.
Above video is Callie
miniature schnauzer breeder texas, dallas texas miniature schnauzers, schnauzer puppies dallas, champion schnauzers, schnauzer breeders, schnauser puppies, showing miniature schnauzers, grooming miniature schnauzers